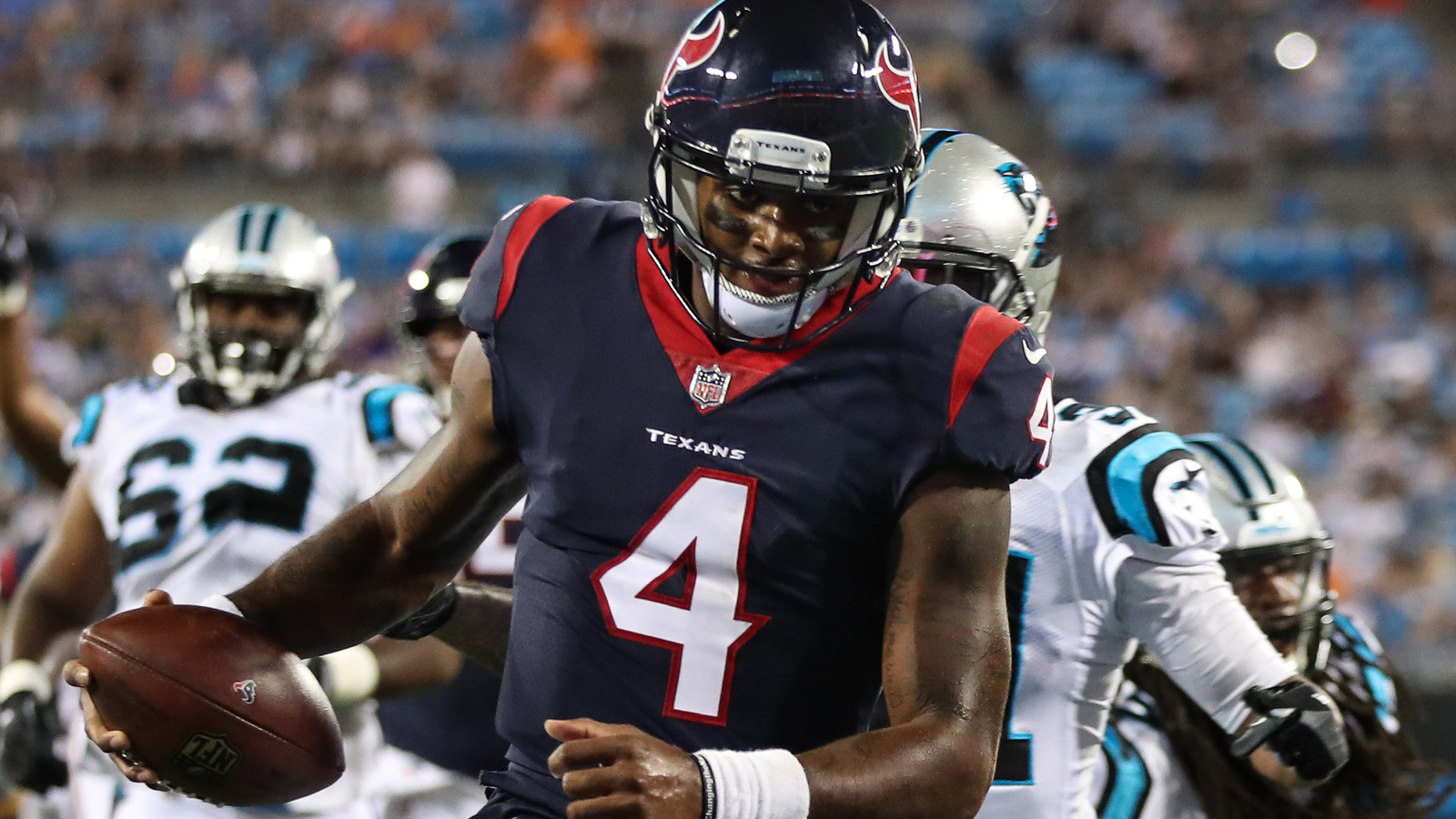 Aug 9, 2017; Charlotte, NC, USA; Texans quarterback Deshaun Watson (4) scores his first NFL touchdown during the second half during the second half at Bank of America Stadium.  Jim Dedmon-USA TODAY Sports
Deshaun Watson flashed brilliance in his preseason debut for the Houston Texans on Wednesday night against the Carolina Panthers. He looked poised in the pocket. And minus a couple overthrows, Watson showed the accuracy that defined his national championship career with the Clemson Tigers.
Mitch Trubisky took over for a pair of disastrous veterans in the form of Mike Glennon and Mark Sanchez on Thursday night. He did so with his Chicago Bears down 10-0 late in the second quarter against the Denver Broncos. He proceeded to lead a two-minute touchdown scoring drive that culminated in this scoring strike to veteran Victory Cruz.
Then, later on Thursday, Cleveland Browns rookie second-round pick DeShone Kizer flashed signs of franchise quarterback capability. Taking over under center after both Brock Osweiler and Cody Kessler struggled, the Notre Dame product led two touchdown scoring drives.
His best play came late in the fourth quarter with Cleveland down by a point to the New Orleans Saints. Kizer hit wide receiver Jordan Payton on a 45-yard touchdown strike with a pass that very few starting quarterbacks in the NFL can make.
To say that these three high-value rookies impressed in their preseason debuts would be an understatement. Each showed why they were selected early on in April's draft.
But it's really time to pump the brakes on the overreactions and realize exactly what happened here. With an exception of Watson in Houston, we're talking about two of the worst teams in the NFL with two of the worst quarterback situations. Giving their fan bases any hope of success at quarterback might be the prudent thing to do.
That's only magnified in Chicago, where high-priced free agent signing Mike Glennon threw a horrible pick-six in his very first drive with the team (watch here).
Then, as it relates to the Browns, their fans got a glimpse of what Brock Osweiler did for the aforementioned Texans last season. Starting the game for Cleveland, Osweiler completed 6-of-14 passes for 42 yards with multiple inaccurate attempts along the way.
If these young quarterbacks are being compared to the Cody Kesslers, …
Read Original Post at
http://www.yardbarker.com/nfl/articles/pump_the_brakes_on_anointing_these_rookies_franchise_quarterbacks/s1_12680_24519457

Sports Media 101 searches and spiders for news it aggregates from across the web about your favorite sport or sports team. This article is originally posted at another site not affiliated with Sports Media 101. The portion of the article posted here is to provide a sample of the content available at the linked site. Please click the link to read the full article. Sports Media 101 does not claim any ownership to the content and all rights are retained by the original copyright owner.
Tags:
Chicago Bears
,
Cleveland Browns
,
Deshaun Watson
,
DeShone Kizer
,
Houston Texans
,
Mitch Trubisky
,
NFL